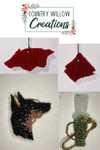 >>Customize this freshie by selecting the color and fragrance<<
Freshies can be used in cars, bathrooms, closets, offices, lockers, and other small spaces!
PLEASE READ THE FOLLOWING:
- Some beads have a yellow tint to them once cured and may cause a change of color in the lighter colors chosen.
-Black beads are more likely to melt off the string in areas of extreme heat!
-PLEASE make sure your address is correct when placing your order.
-ALL SALES ARE FINAL!! There will be no refunds rewarded 24 hours after your order is placed.
-Returns are not accepted.
-If you have any questions pertaining to our shop, policies or information about a specific product, please message us!
SCENT DESCRIPTIONS:
TEAKWOOD: Earthy and warm-Inspired by BBW fragrance
BUTT NAKEY: A tropical blend of fresh melon and sweet strawberries with juicy apples and pears and a hint of vanilla.
ICY NIGHTS: Masculine and clean with musk and soft floral notes.
LEATHER: Realistic, rich scent of fine leather that smells just like you walked into a tac shop.
LEATHER & LACE: Soft leather with vanilla.
CUCUMBER MELON: A Cool summer scent of fresh clean cucumber mixed with a subtle aroma of honeydew-Inspired by BBW fragrance.
DREAMSICLE: A mouthwatering treat of orange peels and zesty citrus mixed with creamy vanilla and hints of coconut.
TIKI HUT: Coconut, pineapple with a hint of cherry-Inspired by BBW fragrance.
POUR SOME SUGAR: Innocent and playful scent of light cotton candy, sweet vanilla, florals, and caramel.
RASPBERRY VANILLA: A luscious blend of raspberries, strawberries, coconut lemon, peach, and vanilla.
VANILLA BEAN: Freshly picked pods from the madagascar plant.
A COUPLE OF WISHES: A festive blend of sparkling champagne, crystal peonies, and almond creme.
HS NOSTALGIA : Clean scent of fresh citrus and warm musk.
NATURAL STATE: Mystery Scent. Coloration may vary!
CACTUS BLOSSOMS: Sweet vanilla, bergamot, and lavender. Musky mixed with citrusy, fruity, and floral.